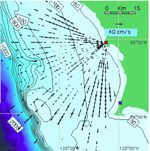 The primary purpose of HG radar observations are to tell real-time offshore ocean circulation, but after looking closely at records from a few of the 80 HF radars that operate along the US Pacific coast and along the coast of Japan, researchers were able to see tsunami-induced wave velocities.
Radars in Hokkaido in Japan show tsunami measurements in their records. In California, the Coastal Ocean Currents Monitoring Program, a network of coastal radar devices, were able to detect the March 11 tsunami. The radar could offer hours of advance warning in Japan, but less than a half-hour warning in California due to the steeper sea floor bathymetry. This was the first time that a tsunami has been tracked by radar, and could prove to be a useful means of detection for future incidents.
The radar detection results are outlined in this paper published in the journal Remote Sensing.