Monday, July 13th, 2015
Australia's new ocean-going research vessel Investigator has discovered extinct volcanoes about 250 kilometres off the coast of Sydney in 4,900 metres of water. The chief scientist for the voyage, UNSW marine biologist Professor Iain Suthers said the...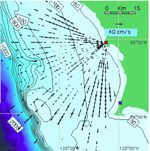 Friday, August 19th, 2011
To date, tsunami detection and warning systems have been based on deep-water, pressure-sensor observations that determine changes in sea surface elevation and fluctuation on the coast, which are point measurements. Researchers observed after-the-fact that existing coastal current...