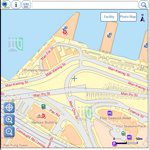 "GeoMobile Map takes advantage of multi-touch technology, allowing users to smoothly zoom in and out of a map on their mobile devices," a spokesman for the Lands Department said. "It also incorporates a strengthened geographic search engine, supporting not only the search for places, streets and buildings in Hong Kong, but also simple semantic searches, such as 'museums in Central', 'supermarkets within map area'.
GeoMobile Map uses the GPS on the device to show the position of a user and to identify points of interest, such as tourist attractions, public transportation, cultural facilities, gas stations, car parks, charging points for electric vehicles, hospitals, clinics, police stations, post offices, shopping malls, registered pharmacies, convenient stores and supermarkets.
Users can also share a marked map with their friends for for them to view on their own devices.
GeoMobile Map supports mobile devices and smartphones running on iOS and Android operating systems. The new service can be accessed via www.map.gov.hk/mobile.