Tuesday, October 7th, 2014
NEWTON, Mass., Oct. 6, 2014—Caliper is excited to announce an updated Australia Data Package! The product includes a wealth of data and functionality not available in any other software. The Australia data includes an...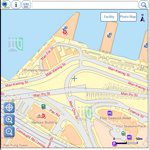 Wednesday, June 22nd, 2011
The Lands Department of Hong Kong launched a new mobile mapping application called "GeoMobile Map Hong Kong" this week, allowing users to view detailed government maps and to search for community facilities while on the move. This...