Wednesday, February 1st, 2012
The Geoinformatics conference series was initiated by the International Association of Chinese Professionals in Geographic Information Sciences(CPGIS) in 1992. This annual international conference has provided a unique forum for exchanging ideas and knowledge on geo-information sciences between...
Thursday, September 8th, 2011
The Digital Maps covering the whole territory of Hong Kong are available for sale to the public from Map Publications Centre, Hong Kong. The Digital Maps are continuously updated by SMO. Except Digital Aerial Photos which are...
Monday, July 18th, 2011
Cities finally reach consensus on the opening up of airspace over the Pearl River Delta, boosting campaign for HK$136b Chek Lap Kok expansion. Read More
Thursday, June 30th, 2011
The Land Registry has produced the 43rd edition of the Index of Streets, House Numbers and Lots in Hong Kong, Kowloon and New Kowloon (Street Index) and the 12th edition of the New Territories Lot/Address Cross Reference...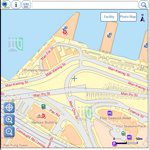 Wednesday, June 22nd, 2011
The Lands Department of Hong Kong launched a new mobile mapping application called "GeoMobile Map Hong Kong" this week, allowing users to view detailed government maps and to search for community facilities while on the move. This...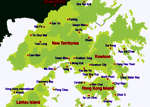 Thursday, March 17th, 2011
Hong Kong has a long history of mapping and surveying since the beginning of the colony. This history dates back as far as the Qin (221-206 B.C.) and Han (206 B.C. - 220 A.D.) dynasties. Initial land...
Monday, January 17th, 2011
Hong Kong's interesting rock formations and natural landforms are numerous and easily accessible. The Agriculture, Fisheries and Conservation Department has launched its iPhone app to showcase various Geo-tour Routes in Hong Kong National Geopark. It's a free...