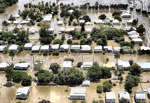 Floods in Australia ravaged large parts of the country. Damage occurred throughout Queensland and was mapped. The State emergency services have been reviewing those events and have developed further strategies for dealing with with events.
Pitney Bowes Business Insight has been developing tools that would aid in the mitigation and response to flood events. Increasing the resilience of communities, their approach includes provision for increased planning including;

• Development of comprehensive local disaster management planning strategies
• Creating and maintaining a community awareness and education programs
• Modelling risk and assessing the potential impact of disaster.
Based on the use and application of spatial data, these tools provide an increased localized overview of critical areas that may be impacted. Furthermore, they include the ability to forecast and model potential damage before it happens.
A national Flood Risk Advisory Group for Australia has also been created. That group has been working on several fronts including, modeling, education, discussion and meetings, specialist development and improved intelligence systems.
A 'FloodPrimer' for Asia has been developed. It includes information about floods and is based on integrated approaches for dealing with these events.
As might be expected, insurers are heavily interested in the development of tools and technologies that can model, forecast and mitigate such events. "The model will help clients better underwrite flood insurance," says Dr. Jens Mehlhorn, Head of Swiss Re's global Cat Perils Flood Team. "We can apply the model to carry out a risk assessment for the client's entire incoming book. We can also provide clients with guidance on what may be the impact if they were to expand their current flood cover to a more comprehensive type of cover."
While much has been done and many innovative new tools and technologies have been developed, the flood season nears we can hope these tools will help and provide benefits in the near future.