Monday, November 11th, 2013
While Typhoon Haiyan appears to be the deadliest natural disaster on record to hit the Philippines, the country is no stranger to major storms. Doomed by geography and hobbled by poverty, the Philippines has long tried to...
Sunday, September 15th, 2013
The Mumbai Metropolitan Region Development Authority (MMRDA) will carry out noise mapping of the city, metropolitan commissioner U P S Madan said on Friday. Madan said there was a need for logical and scientific mapping of noise...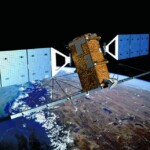 Friday, July 5th, 2013
Today, China signed an agreement to provide earth observation satellite data to members of the Asia-Pacific Space Cooperation Organization (APSCO). The China National space Administration (CNSA) and APSCO signed a memorandum of understanding at a meeting in...
Friday, May 10th, 2013
The United Nations is organizing the United Nations/Indonesia International Conference on Integrated Space Technology Applications to Climate Change under the framework of the United Nations Programme on Space Applications.
Monday, March 25th, 2013
The report, authored by Anthony Press, Anthony Bergin, and Eliza Garnsey, argues that the downstream implications of climate change are forcing Defence to become involved in mitigation and response tasks. Defence's workload here will increase, so we...
Wednesday, January 30th, 2013
Detailed mapping of 17 locations considered as critical areas in Soccksargen Region have already been completed, according to an official of the Mines and Geosciences Bureau (MGB) of the Department of Environment and Natural Resources (DENR) -12. MGB...