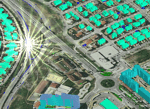 Writing in a paper entitled 'Prospects of 3D Cadastre in Nepal' author Babu Ram says, "The shortcomings
of cadastral map and parcel plan [2D] seem as:
Vertical information only exists sparsely in cadastral map and does not exist in all subdivision plans (building subdivisions).
Determination and measurement of dimensions and area from these maps and plans are not always as accurate as the clients' aspirations.
Rights, restrictions and responsibilities cannot be spatially represented in the plans.
Restrictions and responsibilities are even not mentioned in the title.
Paper-based plans cannot represent 3D structure and do not support 3D analysis.
There is no any provision of visualization of the 3rd component on the cadastral map
Although 3D cadastre are not a requirement in Nepal, Ram's viewpoint provides a strong indication as to some of the limitations of working on paper in a world that is moving online and becoming more digital in nature. "The public sector is oriented towards developing 3D cadastre but private sector has not even thought of it," he says wioth respect to that country.
In Singapore, author Victor H.S. Khoo writes in the paper '3D Cadastre in Singapore' that – "Property rights have always been shown in 2D with the surface parcel being the fundamental representation of ownership. Complex 3D situations, interlocking properties, multi-levelled train station, underground rock caverns are all immediate but unresolved challenges for us in Singapore."
Khoo comments "In essence, our current cadastral survey system is inadequate to support the rapid property development in Singapore. The inability of our part to capture 3D cadastral boundaries
accurately and rigorously could lead to:
Ineffective development planning due to incomplete information of cadastral
boundaries residing in our cadastral database;
Re-work due to design errors by architects, engineers and planners who have based
their calculation on the available 2D property boundaries parameters;
Boundary disputes due to unknown or inaccurate boundaries; and
Encroachment issues due to uncertainty in boundaries.
His paper is an excellent read for anyone interested to learn about cadastre in Singapore and highly recommended. However, many of the conflicting issues between 2D and 3D cadastre are similar to those voiced in Nepal.
Each of these situations provides a glimpse into the current situation regarding 3D cadastre, particularly from a property rights and management perspective. FIG Working Group 3D Cadastre also includes information regarding these issues and additional literature is available. Work at the Universiti Teknologi Malaysia is also continuing on the topic of 3D cadastre and funding has been secured for that research.
The future will include more research, discussion and the development of solutions to meet these many challenges.
————————-
Image courtesy – Bentley Systems, Inc