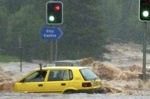 "Location is a common component within all industries and a consistent factor across mitigation, planning, managing the event itself, recovery and community engagement," said Johnson. "GIS in turn is integral to meeting the challenge of each of these issues, as it is a proven platform that can bring together all of these issues and enable us to understand the relationships between our natural and built environments. 
"
The current Queensland Reconstruction Authority (QRA) online map, developed by Esri Australia, provides an example of the power of GIS derived location intelligence in communicating with the community during the recovery phase.

 The QRA application is being used to disseminate reconstruction information to the public, allowing users to see, via a series of interactive maps and layers, which roads, buildings, schools and other assets have been rebuilt and which areas are yet to be addressed.
GIS is also used for mitigation to layer flood data over development site maps to see where flood-lines are and which areas are impacted for making decisions on where to build and what areas to leave as flood plains. Insurers use this information to determine which properties are at risk, who they will insure and at what cost.
Johnson asserted that greater data sharing is needed between governments, industry, community and emergency services before the full potential of modern mapping technology can be realised to improve decision-making around natural disasters.

 The data also needs to be presented to the public in an appropriate format – such as the QRA flood map – to ensure the community is aware of the risks faced and equipped to take personal responsibility for their actions.


"There's a lot of talk about the lack of available data, but I believe the real problem is the lack of collaboration between stakeholders,

" said Johnson. "Ensuring that all commercial and government agencies can access the required data is essential to building appropriately, insuring appropriately, responding appropriately, and managing all aspects of natural disasters appropriately."
The insurance industry, government and community groups have all voiced a need for the sort of insight made possible through GIS. 

Forums such as the API's Natural Disaster Conference, coupled with initiatives such as the Queensland State Government's Flood Inquest and the Federal Government's Natural Disaster Insurance Review, will help to drive collaboration.