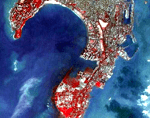 As reported, the Comptroller and Auditor General indicates that at least 3 satellites are not measuring up to expected performance. In the Express Buzz report, it mentions – "Seven remote sensing satellites in operation during 2003-08 include: IRS-1C, IRS-P3, IRS 1D, Oceansat 1 P-4, Resourcesat-1-P6, Cartosat 1-P5 and Cartosat-2 P7. Out of these IRS-P3, 1C and P4 remained under utilised by as much as 50 per cent. The financial loss is big considering the fact that more than `2,000 crore were spent on these satellites."
It is noted that the user base for earth observation data is not increasing for these products. More directly, a finger is pointed at the restrictive data policies and geospatial data reuse within the country. In operation the satellites are performing at 50% of their anticipated revenue generating capacity, a situation that likely needs attention as it has already been mentioned that India expects to launch 30 new satellites shortly. 
In a 2009 interview conducted with Coordinates Magazine, the role of the National Earth Observation Portal was discussed with Dr V Jayaraman, Director, National Remote Sensing Centre, ISRO Hyderabad. At that time he indicated,  "Every department is supposed to make the data available to the common man for applications. In the overall gamut of National Spatial Data Infrastructure (NSDI), you can consider ISRO's contribution of Bhuvan as a window to visualise the kind of data that is available with Department of Space. The underlying factor is actionable products and services". Yet, it is difficult to find products and services for individual departments.
Perhaps it would be worthwhile for an assessment of individual departments use of geospatial data at this time, although, that has not as yet been proposed. However, there are indications that attempts are being made to integrate and expand wider use of remote sensing materials across the country but hurdles have been identified as Green Eminent Blog says. "There are plenty of pilot projects abandoned in order to avoid the challenges of implementation and responsibility towards the technology developers. The huge tracking and services market is being ballooned out in last two years with solutions not approaching clients as per their requirements or neither the clients allowing any changes in existing protocols. Thus creating a deadlock on the technology penetration and development." 
While the Comptroller and Auditor General may be focused upon the financial aspects pertaining to the earth observation program, a wider embracing of the industry that involves education and new data use policies that support imagery use in connection with infrastructure could be a very positive readjustment to get things aligned and profitable once again. In this one regard, one might easily speculate that mobility applications and mobile tablets would play a considerable role as well.