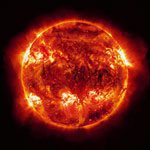 At worst solar flares can black out satellite signals altogether. They can also create positioning errors and rapid signal fading. These problems will have an impact on mission-critical and high precision applications for air, rail and marine transport, even autonomous machinery in areas such as agriculture.
TRANSMIT — Training Research and Applications Network to Support the Mitigation of Ionospheric Threats — is made up of a consortium of leading universities, research centres and industry across Europe and as far afield as Brazil and Canada. Led by the Institute of Engineering Surveying and Space Geodesy ( IESSG ) at The University of Nottingham, TRANSMIT will promote research that will enable the world to minimise disruption of GNSS and consequential societal costs. This €4m initiative is being funded by the European Commission through a Marie Curie Initial Training Network.
Testimony to the damaging effects of ionospheric interference were the serious service interruption and degradation caused by the so-called 'Halloween storm' event that took place in October/November 2003, when one of the most intense solar flares ever was recorded: companies delayed high resolution land surveying, postponed airborne and marine surveys, cancelled drilling operations and resorted to backup systems and commercial aircraft were unable to use GNSS based systems for precision approaches.
From its inception, GPS has been a military system, therefore carrying the stigma of an asset that cannot be fully relied upon. TRANSMIT will help the EU, the Galileo program, and GNSS systems as a whole, to fulfill the objective of a high calibre critical system by neutralizing one of their main vulnerabilities, the threat posed by the perturbations of the Earth's ionosphere.