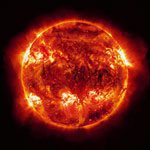 Thursday, March 31st, 2011
A major threat to GNSS realiability comes from the sun. Solar-related phenomena, and their effect on the Earth's ionosphere, can cause disruptions in signal delivery, and there are little to no protections in current systems. As we...
Tuesday, February 22nd, 2011
The threat of solar storms that could wreak havoc on the world's electronic systems must be taken more seriously, the UK government's chief scientist has warned. A severe solar storm could damage satellites and power grids around...