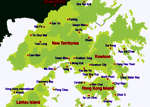 FIG maintains the Cadastral Template for Hong Kong and that document also provides information about cadastral mapping for the territory. In 1989 a move toward digital records was undertaken, and it has been estimated that a current survey of the New Territories could cost about $300 million.
The Survey and Mapping Office/Lands for Hong Kong maintains a number of downloadable maps that can be used freely. The Geodetic Survey Control System for the territory provides a PowerPoint presentation that includes information of a geodetci nature for the region.
Later, ISPRS became involved in the land administration system of the area and wrote about and described what a cadastral survey system is.
Writing in in summary of the Hong Kong cadastral system at the time, Cheng Nga-fong and Tang Hong-wai Conrad said, "The present deeds registration in Hong Kong has been operating under the Land Registration Ordinance (Cap. 128). Deeds and other relevant documents are recorded in a land register in the Land Registry for registration. However, according to the Ordinance, approximate location of the said land parcel or property is only briefly described in the deed or depicted onto the lot identification plan. Recently, the Land Registry proposes the Land Titles Bill by the replacement of current deeds registration system. However, such proposal has no intention to deal with the long neglected land rights: boundary extent."
Hong Kong represents a unique territory where the history of land division, administration and cadastral mapping influences and directions have evolved.