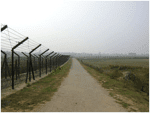 If the land swap proceeds, India will give up roughly 40 square kilometres, while Bangladesh will give up roughly 28 square kilometers, for a 10,000-acre net loss for India. India has 111 enclaves of land within Bangladesh, and Bangladesh has 51 enclaves within India. The transfer would greatly simplify the messy boundary between the two countries.
The land swap has been a touchy political subject between the two countries, and is also a flash point internally among political parties. Amid these border issues, there is also the matter of the 4,100 km border fence that India is constructing along the border.
This border issue is one of many that India continues to face, with ongoing issues with Pakistan over the Kashmir border, and a land dispute with China over the Indian state of Arunachal Pradesh. Given these ongoing issues with its neighbors, it seems likely that largely benign exchange will move forward.
Resources
The Land that Maps Forgot, T.J., The Economist, Feb. 15, 2011