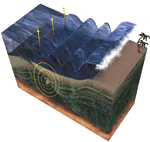 Georgia Tech Associate Professor Hermann Fritz
and his research team are studying the impact of the tsunami on the Sanriku coast. "The ultimate goal is to save lives," Fritz said. "In order to do so, we have to have a better understanding of what worked and didn't work. This is the first time we've been able to look at the structural infrastructure designed to protect coastal towns from tsunamis and examine why it didn't work. There's a lot to learn in terms of surviving tsunamis and protecting, evacuating and ultimately saving lives."
Mapping is another area receiving attention because of its unique ability to provide valuable information rapidly, in an easy-to-understand manner. Lasers have been employed to create 3D maps of the tsunami impacted areas. India, for example, has also been developing projects in 3D coastal mapping.
Japan's eastern coastline was mapping in 3D using the TerraSAR-X satellite, a technology that provides rapid centimeter level mapping that includes digital topographic measurements. Ultrasound technologies have been previously employed to study eastern Japanese lands and coasts.
Recently, Deep Reef mapping in 3D has been developed for the Great Barrier Reef with the idea that captured data will assist to support an early warning system for Australia in the event of a tsunami. "There is a critical lack of information about the location and extent of deep-water ecosystems and seabed habitats for about a third of the Great Barrier Reef World Heritage Area that lies deeper than 200 m. In addition most of the inter-reefal (or between reefs) seabed shallower than 200 m on the Great Barrier Reef shelf, and many of the coral reefs themselves, have never been adequately mapped using modern echosounder techniques."
'Photo-realistic Simulation of Tsunami Impacts Using Foss GIS Tools and Blender' is a project that includes many new geospatial approaches. "At this project a work flow is proposed for photorealistic tsunami visualization based on scientific data. The goal of this work is to quickly and efficiently visualize tsunami impact on exposed coastal zones. All parts have been thoroughly tested and applied to a first animation prototype visualizing a historical tsunami at the old port of Chania – Greece, by using the ArcGIS suite and Blender. After that, focus was shifted to utilize foss GIS tools and automatize the process using a script in Blender." NOAA developed 3D wave height model animations for the Japan tsunami.
On Sunday the Japan Tsunami will be remembered. Our minds will be with Japan.