Wednesday, May 28th, 2014
Singapore Land Authority's (SLA) vision to create a World's Best Practice 3D Map is underway. SLA has long held detailed geospatial layers of Singapore, but these are soon to be extended into the third dimension.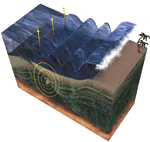 Friday, March 9th, 2012
The Japan Tsunami disaster resulted in a proliferation of mapping and cartographic production. This resulted from the many needs of people to identify and provide emergency services, to enable protective services, assist in geophysical studies and to...
Friday, February 24th, 2012
Baku3D company reports that now through online navigator Go Map www.baku3d.az users will have a chance to make virtual tours not only over the country on the whole , but more closely- in parks, museums, mosques, historical monuments, restaurants,...