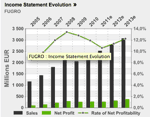 Among the global events impacted business were:
the earthquake in Japan, and subsequent tsunami, that caused a global reflection on nuclear energy and related policies
increasing issues with piracy that impacted areas where Fugros vessels are operating
the Arab Spring, which disrupted power structures in Tunisia, Egypt and Libya, as well as ongoing business in those countries
the continued global financial crisis that impacted Europe and the United States most significantly
The company noted that the expected recovery didn't materialize in 2011, and that their diversity in offerings as well as geographic spread have cushioned them in the downturn. Those areas of government spending, including infrastructure construction and aerial mapping, have been adversely affected. The strong markets in new economies of Brazil, China, India and West Australia have cushioned the company. The ongoing demand for energy has also helped the company as they are involved in oil and gas as well as renewable energy with an offshore wind farm business.
According to Wester, "The Survey division had again a strong year in traditional offshore survey work and during the year, the offshore construction related services recovered somewhat. A major part of government related geospatial work is under pressure, but on balance it made a positive contribution."
Their global business breaks down geographically with the Middle East/Middle East/Asia/Australia accounted for 20% of net sales, the Netherlands (where the company is headquartered) with 6%, Americas with 26.5%, and Europe and Africa accounting for the bulk of their business at 48%.
While there was limited organic growth in sales for the year, the company took an aggressive stance on acquisition with a record year of EUR 245 million spent to expand their services. The larger acquisitions on the year were TSMarine in the Survey Division and of De Regt Marine Cables, and at the end of the year of OBN (Ocean Bottom Nodes seismic exploration) in the Geoscience Division. The company also invested in three smaller survey vessels that will be built in Brazil to meet the demand in that country.
In forecasting the future, the stable price of oil was seen as a very positive foundation for growth in 2012. The company sees ongoing uncertaintly in respect to the recovery of the global economy, but with increasing activity in the Gulf of Mexico, the North Sea, and elsewhere with energy exploration, they feel well cushioned. They see the strongest growth in the year being driven by Europe, then Asia, followed by the United States.