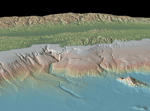 "We have initiated work on the multi-hazard vulnerability mapping of the entire coastline and will then identify the most vulnerable areas from the hazard point of view to set up the '3D GIS' maps for those selected areas," INCOIS Director Satheesh C Shenoi said.
Recently completed vulnerability maps of Nagapattanam in Tamil Nadu and the Nellore district in Andhra Pradesh have demonstrated the value and the methods for this large project.
The agency, which houses the Indian Tsunami Early Warning Centre, will map all coastal hazards arising from sea level rise, coastal erosion, wave action, storm surges and tsunamis. 3D maps will be of particular interest to disaster management authorities in the event of a tsunami as they will provide accurate information of the areas that may be inundated, along with details of the populations that will be affected.
A panel of experts are working to finalized the methodology for mapping process.