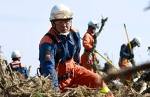 The United Nations University is holding a workshop this weekend in Tokyo to explore ways to redevelop the region of Tohoku. The aim is to harness community input through the creation of social contribution networks and the use of Google's mapping and modeling tools. Google representatives will be training participants on both Google Maps, Google Earth and Google SketchUp.
The United Nations University has been very active in response to the massive earthquake and Tsunami that hit Northeastern Japan, having previously organized a symposium to address environmentally friendly rebuilding in which many Japanese ministers as well as the Crown Prince of Japan were in attendance.
Google's freely available online mapping and modeling tools are a good fit for harnessing community input. By building SketchUp models and sharing them via Google Earth, the community can put back the pieces and plan and visualize in a collaborative manner. Similar use of SketchUp for rebuilding efforts took place with the devastated Italian city of L'Aquila.
Registration for the event taking place at United Nations University can be found here.