Tuesday, September 20th, 2011
In the last decade, India has made considerable progress in laying out the foundation for a sound knowledge-base and a strong user-base for GIS activities in the country. The public and private sectors, in particular, have been working...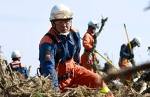 Friday, June 24th, 2011
As Japan works to rebound from the devastating earthquake and tsunami, leaders, planners and academics are working to put back the pieces and lay the groundwork for new development. Leaders are conscious of the world's attention, and...