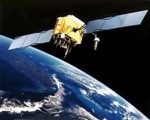 Resourcesat-2 is a 1,206-kg satellite with three pushbroom multispectral scanners. The satellite also carries additional equipment called AIS (Automatic Information System) from COMDEV, Canada, for the surveillance of ships in the VHF band to derive their position and speed. The cameras are tuned for measuring agricultural crops, crop acreage/yield estimations, precision farming, water resources, forest mapping, rural infrastructure development, and disaster management.. ResourceSat-2 provides continuity and increases the observation times in tandem with ResourceSat-1, which was launched in 2003.
India now has ten remote sensing satellites in orbit, including Resourcesat 1, TES, Cartosat 1, 2, 2A and 2B, IMS-1, RISAT-2, and Oceansat-2. This data is used for a variety of measurements to aid policy direction. Imagery sales from ISRO satellites are also responsible for considerable revenues for teh country as it delivers imagery in a variety of spatial resolutions, spectral bands, and swath widths across the globe.
The spacecraft control centre in Bangalore is continuously monitoring returns from the satellite, with the help of the ISTRAC network of ground stations at Bangalore, Lucknow, Mauritius, Biak in Indonesia, Svalbard in Norway and Troll in Antartica. The satellite is expected to start delivering images on April 28.