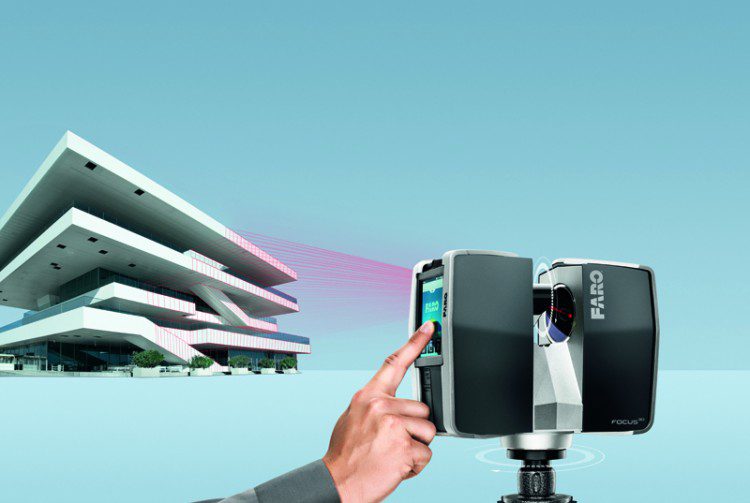 By Mr. Poh Fatt Mak, Business Line Manager (3D Documentation), Asia Pacific, FARO Technologies
3D Documentation is the act of capturing accurate three-dimensional (3D) geometry and images of real objects, reproducible at a certain point in time, and saving it as an informational model. These models are digital representations of the object or environment of interest in its current, true state. While data for these models can be collected in a few ways, 3D terrestrial laser scanning (TLS) is one method that has gained much momentum in recent years. Its popularity can be attributed to technological advancement, which has made this method highly versatile and robust.
3D TLS is ideal for users who need high levels of detail and precision in their 3D models. Today's 3D laser scanners are capable of acquiring large volumes of data at high speeds, creating high-fidelity virtual copies of reality in millimeter-accuracy in a few minutes. Users who require a non-contact form of measurement — when an object of interest cannot be touched — will also find 3D TLS useful. Some instances of "untouchables" include objects at extreme temperatures, objects of extreme plasticity or malleability, or objects of large scale (e.g. buildings, caves).
In fact, 3D TLS can be used to replace many of its predecessors, given its high-functionality, improved outcomes, and ease of use. 3D laser scanners are now designed with intuitive controls similar to digital cameras and smartphones, allowing entry-level users to access a world of possibilities that was previously thought to be too complex.
Laser Scanners of Today
Current models of 3D terrestrial laser scanners offer long range scanning capabilities, high resolution colored images, and precise measurements all rolled into one. Some boast of ergonomic designs, portability, wireless connectivity, better workflow, or ease of use. One such laser scanner that combines all these benefits into a small, compact 'package' for users is the FARO® Laser Scanner Focus3D.
Fundamentally, the Focus3D makes use of phase shift measurement technology to measure distance. The scanner projects a beam of infrared light of varying lengths, which is reflected back to the device upon contact with an object. Using the distance measurements and the device's rotational angle data, the angle encoders in the device calculate the object's Cartesian coordinates in space. Several million of such 3D coordinates results in a complete 3D impression of the surroundings.
With a size of only 24 × 20 × 10cm3 and a weight of just 5.2 kg, the Focus3D is the smallest 3D laser scanner ever built. As a standalone solution, the scanner does not require external device to operate. Data management is convenient with a Secure Digital (SD) card and secure web sharing functions. To top it off, its latest hardware update includes new sensors that simplify post-scan data processing, allowing quicker set-up and a better workflow. Packed with all these features and more, the Focus3D is truly an industry-leading product that continues to eclipse competing models.
Uses of 3D Terrestrial Laser Scanning
3D TLS has a multitude of applications across a variety of industries. Improvements on 3D laser scanners have made them highly versatile, able to withstand both indoor and outdoor conditions.
Here is a closer look at a few of the more popular applications of 3D TLS, namely, general surveying, construction, and heritage preservation.
1. General Surveying
Land surveyors commonly utilize 3D TLS for As-Built Surveys, Monitoring Surveys, Topographic Surveys, as well as for Volume and Area Measurements. Point cloud data captured by the laser scanner is then put through the point cloud processing software, which is used to create contours and meshes, calculate volumes, and create profiles and cross-sections.
The FARO® Laser Scanner was used in one of Beijing Institute of Surveying & Mapping's projects, to capture as-is documentation for the Wenchuan Earthquake Memorial Park. The commemorative site was set-up after the Great Sichuan Earthquake that shook China on May 12, 2008. The team behind the memorial designed a comprehensive study using a multi-pronged approach, involving high-technology equipment in many areas.
Mr Yin Wenguang, Project Leader from Beijing Hao Yu World Mapping Technology Development Co., Ltd. shared, "We used an unmanned aerial vehicle to collect data from a bird's eye view. And on the ground, we employed laser scanning technology, precision control measurement technology, and close range photography to gather a wide variety of images for full digital reconstruction of the site."
Aside from serving as a high-fidelity digital archive, the scan results were used for several other applications within the memorial — such as in the overall layout plan for the park, as a virtual tour system for an exhibit, and even as a 3D-video for tourism marketing.
When asked about his experience in the usage of FARO Laser Scanner, Yin expressed, "The scanner gave us exceptionally accurate scans in a very short amount of time. Its ease of use helped us complete the necessary surveys and generate the 3D model outputs efficiently."
2. Construction
Architecture and civil engineering industries utilize 3D TLS for building documentation, structural analyses and maintenance, inspection of facades, as well as construction progress monitoring. The technology has the potential to significantly empower engineers by providing details of the spatial environment in which they operate.
Aisei Ltd is a Japanese professional structural inspection company that is actively involved in the preservation of urban landscapes. The company's work involves checking structures for possible deterioration caused by passage of time, environment, or external forces. While it may not appear impressive at first glance, Aisei plays a vital role in detecting potential dangers in important urban structures that are used by thousands of commuters daily.
In the course of their work, the team at Aisei has had to assess many bridges without an original design blueprint in hand. These documents are important especially for earthquake-resistance construction work, because crucial information such as precise dimensions and measurements of the structure are required. To overcome that, Aisei would physically take measurements of the structure using instruments such as tape measures, and manually transfer the information onto 2D blueprints. However, the task of manual measurements is risky to accomplish, and there are often inaccessible areas as well. This has posed a problem for the inspection work.
Consequently, the company decided to invest in a FARO® Laser Scanner Focus3D to perform measurement tasks using 3D Documentation technology. Having seen the FARO device at the 2009 Maintenance Techno Show, Aisei understood the Laser Scanner's ability to capture point cloud information at high speeds.
With 3D laser scanning, structural dimensions can be captured easily, replacing conventional hand tools. In addition, information about any structure can be presented in 3D format. When asked about the rationale of switching to the 3D Laser Scanner, Mr. Koichi Iwasa, President of Aisei, said, "Regardless of the industry sector, we believe that the use of 3D source data will become a standard in the future. That is why we decided to introduce the Focus3D into our workflow. We also felt that it would enhance safety and quality management, adding value to the work we are doing."
3. Heritage Preservation
Other vocations that favor the usage of 3D TLS outdoors include historians and geographers, who may require documentation of historical sites and landforms for heritage preservation or academia purposes.
In the summer of 2013, a group of university professors, instructors, and students from the University of Hong Kong's Faculty of Architecture and the Tsinghua University's School of Architecture (Beijing) took a trip to research and record the unique architecture that characterizes the Miao and Dong minority tribes in Kaili city, Guizhou province, China.
To aid in the mammoth assignment of capturing data for the unique Miao structures, the research group relied on the FARO® Laser Scanner Focus3D, a portable high-speed 3D laser scanner, for the detailed measurement and documentation of selected structures. Over the course of a week in Kaili, the Focus3D was employed rigorously, and yet consistently delivered accurate results that eventually contributed tremendously to the students' learning experience.
Of particular importance to the success of the trip was the data archiving and digital information modeling of a typical traditional house, also known as 'house on stilts'. The Miao people take pride in building, and they place great importance in the selection of an ideal spot for their homes. In general, there is a preference for sun-facing sites located either next to rolling ridges, surrounded by mountains high above cascading slopes, or by the waters with a beautiful view.
The Focus3D was thus put to the test right away, first to scan a 'house on stilts'. A major advantage of the scanner was its lightweight portability. With a size of only 24 × 20 × 10cm3 and a weight of 5.2kg, the Focus3D was easy to maneuver and position, allowing the team to deploy it anywhere they required for the best scans.
Another positive factor was the device's ease of operation. The students found it revolutionarily simple and intuitive to operate the touchscreen display on the Focus3D. As a standalone solution, the device did not require external devices to operate. This offered the team true portability and convenience during the data acquisition process.
Overall, however, what everyone considered the best thing about utilizing the scanner was its speed and precision. The Focus3D collects 976,000 measurement points per second at millimeter-accuracy, creating an accurate, virtual copy of reality in a matter of minutes. This allowed the team to complete a detailed scan of a Miao house with a total of 11 scanning stations in just three hours. With its high performance integrated lithium-ion battery, the Focus3D was able to perform this scan with a single charge.
Other than benefits during data acquisition, the Focus3D also offered the students great convenience in the later stages of their educational trip. Data was easily transferred from the device's SD card onto the computer, where post-processing was done with proprietary software. This took the team just five to six hours for each structure they had scanned earlier. The team appreciated the fact that the Focus3D captured photorealistic 3D color scans, which came in very useful for their post-trip design skills training and workshop in Beijing.
Apart from common applications explored earlier, manufacturers who require dimensional inspections of large, complex components, rapid prototyping, and reverse engineering of products also find the technique of 3D TLS very helpful. This group of users span across industries such as aerospace, metalworking, shipbuilding, as well as oil and gas.
Lesser-known (yet equally relevant) applications of 3D TLS include creation of 3D virtual reality for the film and gaming industries, as well as documentation and recreation of crime scenes by forensic scientists. In the unique application of crime scene investigations, the non-contact nature of 3D TLS is a crucial requirement as police departments cannot risk contaminating evidence.
As technology continues to advance, the usage of 3D TLS is expected to grow and become more widespread. FARO has been and remains committed to democratize 3D scanning, making the technique available to all who can find a use for it.
About FARO
FARO is a global technology company that develops and markets computer-aided coordinate measurement devices and software. Portable equipment from FARO permits high-precision 3D measurement and comparison of parts and compound structures within production and quality assurance processes. The devices are used for inspecting components and assemblies, production planning, inventory documentation, as well as for investigation and reconstruction of accident sites or crime scenes. They are also employed to generate digital scans of historic sites.
With FARO, 3D measurement and documentation needs can be fulfilled confidently. As a pioneer and market leader in portable computer-aided measurement, FARO consistently applies the latest advances in technology to make its industry-leading product offerings more accurate, reliable, and easy to use. The focus is on simplifying workflow with tools that empower customers, thereby dramatically reducing the on-site measuring time and lowering overall costs.
Worldwide, approximately 15,000 customers are operating more than 30,000 installations of FARO's systems. The company's global headquarters are located in Lake Mary, Florida, with its European head office in Stuttgart, Germany and its Asia-Pacific head office in Singapore. FARO has branch locations in Japan, China, India, South Korea, Thailand, Malaysia, Vietnam, Canada, Mexico, United Kingdom, France, Spain, Italy, Poland, and The Netherlands.
Further information: www.faro.com/sg