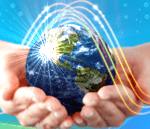 Digital Earth says, "the purpose of the society is to promote international cooperation on the Digital Earth vision, and enable the Digital Earth technology to play key roles inter alia, in economic and social sustainable development, environmental protection, disaster mitigation, natural resources conservation and improvement of human being's living standard."
Some have expressed the notion of a 'system of systems' when speaking about such a large and inter-connected range of possibilities built upon a myriad of connected geodata sources – that can be used and applied for a range of activities. The Group on Earth Observations (GEO) is one such group that combines these types of information.
But all of this information begins locally. When a farm producer implements precision farming for the first time, he or she is beginning to participate in Digital Earth. When a new road is constructed using digitally collected surveying data, that is a step toward Digital Earth. When a Web Services is operating to distribute maps through smartphones and field devices, that is yet another action participating in the wider Digital Earth vision.
This applications oriented toward emergency and relief operations that incorporate elements of the Digital Earth vision, seek to place high quality GNSS gathered data of the impacted facilities and infrastructure immediately in the hands of decision makers planning relief efforts.
Connecting the digital dots, one after another, leads to the development of highly integrated Digital Earth supported geographic information systems (GIS). Such efforts represent high levels of sharing and collaboration, all delivering spatial data where it is needed through a wide number of enabling technologies.
The importance of surveying toward supporting and enabling Digital Earth cannot be overlooked. It forms a foundational part of the entire digital connection upon which all other data follows. Improved accuracy and precision lead toward even more applications and create a situation that users come to depend upon, understand and can trust.