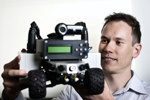 "At the moment you need three satellites in order to get a decent GPS signal and even then it can take a minute or more to get a lock on your location," Milford said. "There are some places geographically, where you just can't get satellite signals and even in big cities we have issues with signals being scrambled because of tall buildings or losing them altogether in tunnels."
SeqSLMA visual-based navigation makes an assumption about your location and tests it repeatedly by imaging surroundings and testing it against data that it has already collected. As you move around, the sequence of repeated images build up over time to uniquely identify locations.
Milford credits Google with the breakthrough on this approach, given its capture of almost every street in the world in their Street View project. With this data, he then set out to simplify and make streets recognizable with pattern recognition.
The research benefits from Milford's work with small mammal navigation, working out how they achieved it when their eyesight was so poor. Using simple low-resolution cameras, and mathematical algorithms, Milford has proven that we don't require expensive satellites, cameras or computers to achieve similar — and even more accurate — outcomes.