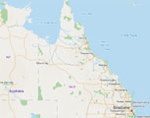 The map, powered by Esri, includes familiar aerial, road view, as well as a hybrid view. Locals are able to search on the map by address or by map extent. There is also functionality to print and share maps with others.
The Community Intelligence Map contains a number of different data layers that include: disaster districts, rural fire brigades, fire wardens, search and rescue groups, schools, river gauges, storm tide gauges, and traffic cameras. There are plans to add new data layers as well as real-time information feeds during disaster events.
The initiative is part of a public engagement program to deliver more public-facing data via social media. The initiative falls in line with other open government initiatives elsewhere.
Click here to view the map online.