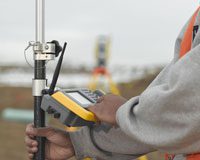 Wireless is growing and expanding within surveying and positioning related technologies. connectBlue, a wireless manufacturer recently received a large order from Leica Geosystems, "valued at several hundred thousand Euro, encompasses the introduction of the long-range Bluetooth Serial Port Module OBS433 into several Leica Geosystems high-end products." That company also uses wireless capabilities for it's laser trackers.
Sokkia's SRX Total Station also includes wireless capabilites. The SRX tracks target prisms in the field automatically.
Trimble's Site Control Solutions include a series of Universal Total Stations that can deliver wireless capabilities for measurement applications such as within mining, construction, layouts and tunneling.
Meanwhile, wireless technologies connected to sensors are now beginning to be found in agricultural fields. These sensors provide connection to base stations, continually updating field crop status and providing the latest meteorological and water management measurements direct from the field to the office for decision making purposes.
The 'Guidebook On Technologies for Disaster Preparedness and Mitigation' says, "advanced disaster management technology could provide a critical support system for disaster management authorities at times of disaster-related crises. Such a technology also provides important inputs for any disaster management plan of action in modern times."
Wireless technologies can be found in hundreds of survey related technologies covering a wide range of multi-disciplinary use, including measurement and engineering.
——————————————–
Image: TSC – Courtesy of Trimble