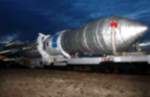 A current review of the Russian Federal Space Agency GLONASS facility shows that there are many 'healthy' satellites in orbit (see graphics here). These continue to operate around the globe. There are 20 operational GLONASS satellites are in space. The country continues to plan for the launch of replacement satellites in early 2011. In the long range a new generation of GLONASS K2 satellites will be launched beginning 2013 – tests have already begun.
While the current failure of the three satellites is a setback, it is only that. The marketplace continues to grow at a rapid rate where GNSS (GPS+GLONASS) is concerned and the general level of interest is expanding as the potential for new applications also increases.
In the mean time the Russian government is heightening discussions around the possible uses for GLONASS. The latest discussions have included topics related to transportation, infrastructure uses and social applications, supposedly in support of consumer oriented applications.
Without doubt the major advantage from GLONASS extends into GNSS application development where higher levels of accuracy and precision are possible. This also includes increased use in surveying, disaster, infrastructure and mobility applications for inner cities.
The new year is likely to bring a fully operational GLONASS constellation early on and we should continue to plan with that in mind.