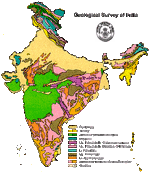 These changes come at the recommendation of a high-powered committee in the Ministry of Mines that reviewed the function and capabilities of GSI. The changes address stagnation and slow career growth in an aim to attract new talent to the agency. The change also is meant to re-align GSI's mission with well-defined objectives and greater accountability and monitoring.
GSI has been serving the country for 160 years, with the first geological map of parts of India produced in 1821. The agency is headquartered in Kolkata where the Museum of Geology was established in 1840.
Among the objectives are GSI's ability to meet emerging geosciences challenges, both national and global. The changes are meant to enhance GSI's capacity to augment the country's resource base, for essential and strategic minerals.
The GSI changes are also meant to prioritize issues of immediate immediate societal relevance, such as climate change, desertification, glacial retreats and coastline changes as well as geogenic issues.
Source: Press Information Bureau, Govt. of India