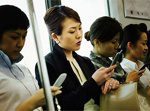 The market research study separates different location services into navigation, location information, location games, check-in, augmented reality and tracking. While navigation accounts for half the market currently, its growth is expected to taper as location information services and location-based games grow.
The LBS market in Japan has had a relatively slow start, with GPS introduced into feature phones in 2007. Now ith stronger growth of smartphones, the demand for LBS innovation is beginning to grow dramatically.
According to Seed Planning, the LBS market accounted for 43 billion yen (560 million USD) in 2010 and is expected to expand to 147 billion yen (1.9 billion USD) by 2015.
The market report can be found on the Seed Planning website (note the site is in Japanese).