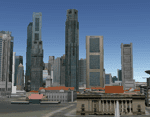 The combination of 3D technology with 2D GIS technology has provided URA staff and their community with the tools to visualize the impact of urban development. The visual analysis provides a value added segment to the evaluation processes supporting the most educated decisions when building a greater Singapore.
The use of 3D visualization has become a tool for Singapore's marketing and communication of their land use plans. Quantitative impacts were given in terms of both "man-days" and monies saved to date, along with estimates of future benefits.
Many different groups are now making use of the system and specific examples were given of projects and studies that used the system, along with visual representations for each. This is a unique application in that it presents an innovative system for producing visualizations of Singapore. The videos and images produced by the solution portray the vision of and for Singapore. Projects like these move the GIS and planning industries forward.
This and other exemplary systems will be celebrated during the Awards Breakfast at GIS-Pro 2011: URISA's 49th Annual Conference in Indianapolis on November 3, 2011.