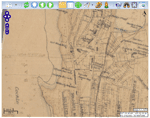 Spatial Genie sets the scene for the continued development of a free, Australia-wide, system for GIS in the schools. ESA acquired data from government and private providers for use in Spatial Genie, providing national data to be explored. The site accompanies a DataGenie site to explore tourism data for where visitors come from and why they visit. The site will also have data associated student activities and educational support materials.
There are a range of impediments to the introduction of spatial technology in the classroom. They included factors such as software and data access, hardware availability, computer room access and teacher expertise.Spatial Genie provides a stepping stone for teachers to start using spatial data for lessons and lesson planning via an online platform.
Spatial Genie is a recently released GIS platform and is available for free use at http://www.spatialgenie.edu.au/spatialgenie/.