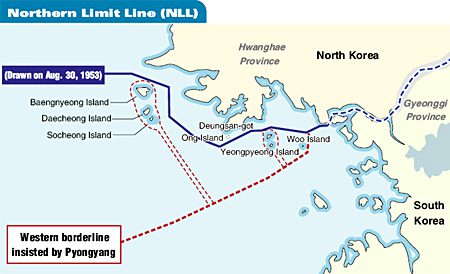 A map of the maritime border region, where last week's event occurred, is available here. This map clearly indicates that the island in question is located in the south, as are others. North Korea has indicated that portions to the west though, do not extend as far as expected. The reason for this interpretation is that it causes North Korean ships to travel due west for longer periods of time, before turning south – they prefer the shorter more direct route.
The sea border has been debated before, most recently in 2007 as noted by the Taipei Timesnewspaper. In fact, the South Korean ship earlier sunk in March 2010 was located in these contested regions to the far west along the North-South Korean border as maps here show. An earlier naval battle in 2002 was reported in this region.
And, if you think that the border between north and south is the only one in question where incidents happen – wrong. The northern border between China and North Korea has also seen it's share of activity as well, as reported earlier
The importance of identifying and marking border regions is critical. It helps to avoid difficulties in interpretation and expectation as to ownership. In this case the results have been tragic. But it also raises the point of updating such border area maps with new technologies like GNSS to provide more accurate delineation of confliting spaces, as well as providing the technology to reproduce them accurately – and similarly.