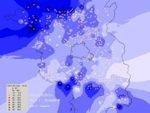 Many company's are developing map serving capabilities including SuperGeo Technologies, Esri, MapServer, QGIS, Autodesk, Bentley and others.
These servers often connect directly to surveying technologies and notebooks / tablets used in the field for surveying.
This connections enables direct links that exchange data back and forth from field to office in real-time. Additionally, surveyor- map server connections support greater collaboration with other users of the same data.
Architects, city planners, environmental, emergency management, disaster services and utilities together with other agencies all rely upon the same survey data. Stimulating use and integration of this information is increased when map servers are used – they don't just serve maps – but serve data.
In the future we are likely to see map server use grow for these reasons. As new 3rd party solutions are developed, these too will be integrated into these servers, expanding their value and increasing the broader use of spatial data.