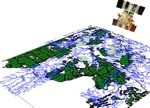 As Dr. Chaowalit Silapathong, Director of the Geo-Informatics office at the Geo-Informatics and Space Technology Development Agency (GISTDA) in Thailand stated, "Eventually, and when it is fully operational, the "ThaiSDI" will be fully networking with distributed portal nodes operated by collaborative efforts of cooperating public and private agencies to accommodate the sharing of geospatial information over this enabling portal or internet platform."
Other countries in Asia are also involved in developing NSDI. In 2008, the Bulletin of the Geographical Survey Institute in Japan published the details pertaining to issues related to that country's NSDI. Details about the New NSDI and National Mapping Policy of Japan can also be found.
Asmat Ali of the Survey of Pakistan presented details on Pakistan's involvement in NSDI. In his paper 'How Does NSDI Development Fit into Pakistan's E-Government Programme?' the author said, "Pakistan is among those countries where development of digital information and its delivery is on the political agenda. The digital information is of two kinds i.e. Geographic Information (GI) and non-geographic information. Geographic information (GI) is special because it refers in one way or another to a location relative to the earth. Other information can be linked to GI, for example, health care information, telecommunications, financial information, and traffic information."
Turkey recently held a workshop 'Feasibility Study Workshop of Establishment of National Spatial Data Infrastructure of Turkey' with the purpose of raising awareness and to begin the process of developing a NSDI. For that workshop "Dr. Özkan Dalbay, President of Turksat Corp., gave information about the project and expressed that they attach great importance to this project in his opening speech. A total of 190 participants from 51 Public Bodies, four different Metropolitan Municipalities are attending to the workshop."
Clearly, NSDI have taken root in Asia and many other countries are now immersed in raising geospatial awareness, developing spatially enabled economy's and supporting their government efforts with enriched content aligned with citizen and business interests.