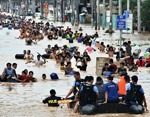 The announcement was made at the same time that the government unveiled the flood-control project for the Agnos River. The new Agnos River Flood Forecasting and Warning system (FFWS) is a P243-million project that combines sensors and systems to monitor this flood-prone area, and was part of Japan International Cooperation Agency (JICA) project.
The Philippines are considered one of the world's most vulnerable countries to natural disasters, sitting on the Pacific's earthquake and volcano belt, and hit by an average of 20 typhoons a year. The low-lying islands are often devastated by floods.
The modern map of the country is meant to minimize destruction, saving lives and property. No details are yet available regarding the mapping methodology or timeline of the project.
Sources