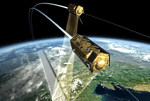 A 2010 World Development Report takes aim at the importance of improving conditions of poverty, feeding people and putting in place the necessary conditions to support successful adaptation to climate change. To meet these challenges water will play an important role.
The report speaks about a 'Climate Smart' world that embraces more than CO2 alone. "Achieving the needed emission reductions will require a transformation both of our energy system and of the way we manage agriculture, land use, and forests. But these transformations must also incorporate the needed adaptations to a changing climate. Whether they involve deciding which crop to plant or how much hydroelectric power to develop, management and investment decisions must factor in changing hydrological conditions and temperatures: rather than being optimally adapted to the climate of the past, decisions will have to be robust to the variety of climate outcomes we could face in the future," the report says.
On any given day Asian Surveying and Mapping news is filled with content from various Asian sources that connects directly on this theme of people, social system and environment. For example, in one item this week 'Mapping Shows a Profit in New Zealand', New Zealand farmer Craige Mackenzie describes the use of precision farming tools to improve not only profitability of his land, but to improve conservation efforts of the land – immediately connecting food production to sustainability.
In the article 'SuperGIS Applied to Spatial Data Management of National Parks', a picture of geodata integration and the elevation of spatial management helps "to optimize the management of land resources and to maintain public facilities in Kinmen National Park" – enabling the monitoring of landscape change as it proceeds operationally.
In a more far-reaching manner, Open Geospatial Consortium (OGC) announced the International Earth Observation Satellite Tasking Standard, where the "SPS configuration proposed in this extension is intended to support the programming process of Earth Observation (EO) sensor systems." Which we can expect to see included in the monitoring and modeling efforts of the landscape both locally and globally.
Meanwhile, 'GNSS for Safe Food Production Systems' links to the World Development goals through improving the capacity to feed people while managing the land base more effectively and efficiently. In Australia a 'Weathering Intensity Map of the Australian Continent' is providing important results. "Weathering intensity is a fundamental characteristic of the regolith, the often discontinuous and highly variable layer of weathered bedrock and sediments that overlies fresh bedrock at depth. The weathering intensity index has broad applications for a range of natural resource management, environmental, mineral exploration and engineering issues" – again linking water into the landscape processes that produce food and support air quality.
Elements of monitoring, management and measurement apply to a broad range of activities highlighted in the World Development report. The geocommunity participates through a range of disciplines that include surveying, remote sensing, infrastructure, mapping and engineering. 
————
Image: TanDEM-X satellite – DLR