Saturday, June 11th, 2011
The opening ceremony of SBSM Satellite Surveying and Mapping Application Center was held on December 18, 2009. SBSM Director General Xu Deming unveiled the plate of the center and made a speech at the ceremony. The center's...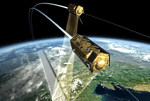 Friday, April 15th, 2011
Water is important to all living systems and the management of this valuable resource is becoming increasingly important. In addition, boundary layer measurements obtained through meteorological observation provide an integral connection to the hydrologic cycle. The range...