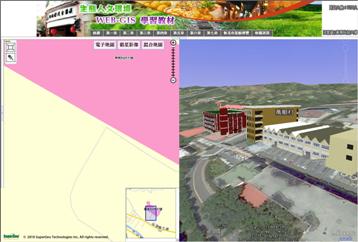 Equipped with WebGIS technologies and a user-friendly interface, the Eco-cultural Web-GIS can display map data including e-maps, satellite images, Google Earth 3D buildings, etc. It associates the existing navigation system of campus with tourism resource database, and publishes the spatial data and tourism information to the Internet as map services.
Users can switch to browse the e-map or the satellite image and manipulate the map functions, like pan, zoom in/out, zoom to full extent. By clicking the map with query tools, users can also view specific tourism information of locations nearby the campus, such as scenic spot, the name of store, address, and phone number, etc.
The webpage function interface of the Eco-cultural Web-GIS covers two main parts: the map display area on the left and the Google Earth display area on the right of the interface. The maps on the two sides are exhibited simultaneously. While the map on the left part is zoomed to a certain area, the Google Earth on the right part will be zoomed to the same position at the same time, vice versa.
In addition to the three-dimensional terrain on Google Earth display interface, the three-dimensional model of campus buildings can be added to Google Earth display interface as well. Therefore, the map display content can be greatly enriched and the students can understand the process of GIS data collecting, managing and displaying by manipulation. Besides, the instructors can publish updated data and integrate the course to substantially raise teaching quality and efficiency with the system.
More information is available at http://www.supergeotek.com/Library_2_201105.aspx