Monday, March 12th, 2012
AAM are holding a Geospatial Web Directions Workshop in Perth. This will be a great opportunity for current users and those interested in Web mapping and Web GIS to see the latest Geocortex technology advancements and tools, hear about...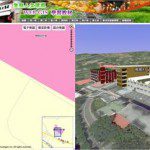 Wednesday, May 11th, 2011
SuperGeo Technologies, the leading global provider of complete GIS software and solutions, designed an Eco-cultural GIS website for Tungnan University to integrate the campus navigation system with the information of surrounding environment, ecology and culture. Aimed to...