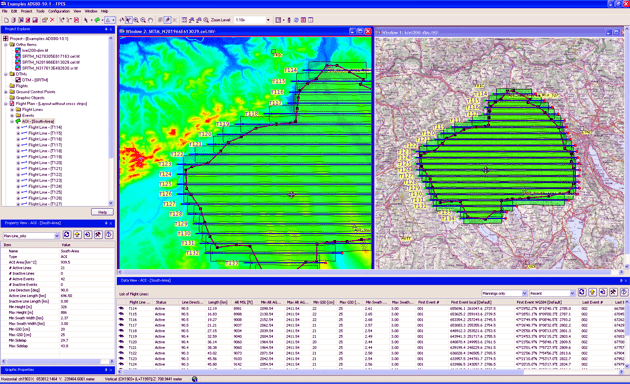 Version 10.2 of Leica FPES provides enhanced planning features like graphical definition of the line direction or cutting groups of lines. The height range for elevation encoded color images can now be defined and Leica FPES v10.2 can also detect the minimum and maximum elevation in a DTM area, an AOI or in flight line footprints. New computation options allow to take the terrain height outside the AOI into account and coordinate systems of existing flight plans can be changed to merge flight plans together. Also many new QC features are implemented and the Flight Line Investigator is enhanced. Leica FPES v 10.2 frame flight plans can be exported now in the format for execution with Z/I Inflight.
Additionally Leica FPES v10.2 has incorporated a significantly enhanced AeroPlan for flight planning with Leica ALS sensors. The new AeroPlan70 provides graphical presentation of the computation results, includes one additional point density optimization method and the possibility to compute for multi-sensor configurations frame camera parameters that match the ALS settings. Furthermore, AeroPlan70 supports the recently announced Leica ALS70 airborne laser scanner.  
Availability
Leica FPES v10.2 is available immediately and ready for download for Customers of Leica FPES which are on Software Maintenance.