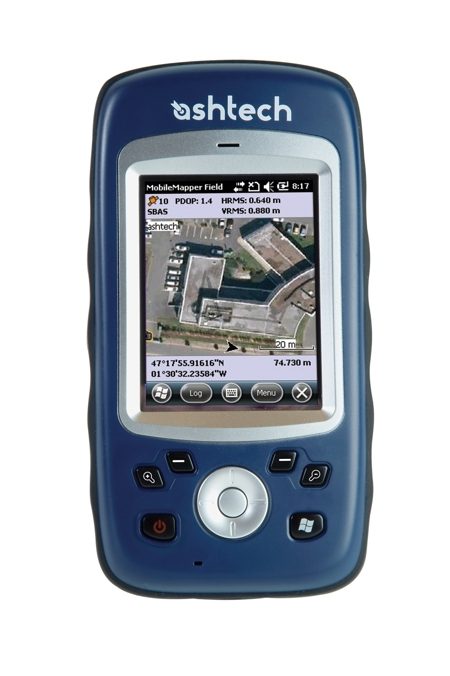 "The MobileMapper 10 is affordable with its real-time meter and post-processed half-meter accuracy making it a cost to performance leader for mobile mapping solutions," said François Erceau, general manager of the Spectra Precision, Nikon and Ashtech Business.
Geographical Information System (GIS) and location-based services are being utilized by a wide range of organizations and data collection applications. "The growing need for geo-localization is naturally boosting the demand for affordable yet accurate data collection solutions," said Erceau. "Since the 2003 introduction of the first MobileMapper, the Ashtech brand has been a leader in providing GNSS solutions to enable wider access to professional mapping. The MobileMapper 10's accuracy, ease-of-use and affordable price continue this tradition," he added.
Boost Mapping Productivity
With the MobileMapper 10, organizations can improve the quality of their GIS data, improve productivity and reduce operating costs. MobileMapper 10's user-friendly efficiency enables virtually any operator to quickly learn and use the new mobile mapping solution. With quick logging operations for productive mapping and meter-level accuracy, the solution can improve the features and attributes for geo-positioning. In addition, the MobileMapper 10's connectivity allows data communication between the field and the office.
Unpack and Start Logging
MobileMapper 10 is a complete mapping solution ready for real-time data collection. The MobileMapper software suite includes features that GIS professionals need without the burden of complicated and rarely used functions, both in the field and the office. It is intuitive and requires minimum training.
MobileMapper Field application software is an ideal solution for GIS data collection, asset management, area measurements, maps creation and updates. It also provides a direct interface to external sensors such as cable locators and laser range finders for a complete field solution.
Designed for the Mobile GIS Workforce
The MobileMapper 10 incorporates Bluetooth®, WiFi and GSM/GPRS communication to keep field and office workers connected for increased efficiency. It is a convenient tool for intensive data collection. According to Erceau, "the MobileMapper 10 is lighter (380g with battery) than competitive smart data collectors, offers a large display in a compact form factor and has exceptional battery life (typically > 20 hrs @ 20°C with GPS on)." The MobileMapper 10 runs the powerful Windows® Mobile 6.5, which offers the flexibility required to support a variety of GIS/mapping applications.
Availability
The MobileMapper 10 is expected to be available worldwide in June 2011 through authorized Ashtech Mapping & GIS distributors. For more information, visit:
www.ashtech.com
.