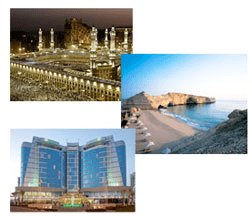 The final event will take place on March 9th at the Holiday Inn Abu Dhabi Hotel in Abu Dhabi, United Arab Emirates.During the events, presenters will demonstrate the exciting new enhancements in the ERDAS 2011 Software Release, including portfolio-wide changes such as the ability to localize ERDAS products for a global audience, integrated support for Microsoft Bing™ Maps base imagery and map data, distributed processing throughout the desktop offerings, and a new product, ERDAS Engine. ERDAS Engine is a simple, cost-effective solution that boosts processing power for ERDAS IMAGINE and LPS, leveraging existing hardware resources for increased production needs or situations requiring faster production output.Individual applications are also designed to cost-effectively boost output and decrease production times, providing upgrades that enhance usability and enable users to leverage all their available hardware.
Presenters will showcase such changes in ERDAS IMAGINE®, LPS, ERDAS APOLLO and other leading desktop and server products.ERDAS IMAGINE integrates many solutions in one, incorporating geospatial image processing and analysis, remote sensing and GIS. ERDAS IMAGINE 2011 features new tools and an enhanced interface designed for quick and easy creation of presentation products that clearly highlight relevant areas of imagery.
The most demanding image analysts, including those in the defense and intelligence community, will benefit from improved imagery analysis workflows that feature improved text editing, inset views, new templates with elements that automatically update based on metadata from inserted imagery, the ability to geolink to Google Earth, and single-click exporting to Microsoft PowerPoint, Word, or JPEG.LPS is a powerful, workflow-oriented photogrammetry system for production mapping, including full analytical triangulation, the generation of digital terrain models, orthophoto production, mosaicking, and 3D feature extraction.
A key theme for the LPS 2011 release is distributed processing, which enables users to leverage multi-core CPUs and multiple networked servers to increase production throughput and accelerate processes that have been extremely time-intensive until now. In addition, LPS 2011 enables generation of orthos for a specific area of imagery defined by a shape file or AOI.ERDAS APOLLO is the market-leading geospatial solution for managing and serving imagery, consistently delivering virtually any digital object in an enterprise faster and with less hardware than competing server-based products.
ERDAS APOLLO 2011 introduces clustering, in which multiple servers work in concert to fulfill data searches and requests, increasing the number of supportable users. This latest release also provides support for cataloging and serving LIDAR (LAS) files."GeoSystems Group for Information Technology is exceedingly knowledgeable about the specific needs of the Middle Eastern remote sensing, GIS, and photogrammetry market," said Martin Ehrhardt, EMEA Vice President, ERDAS. "We're excited about introducing ERDAS 2011 Software Release with this organization, and even more pleased at the consummate local support it provides customers in the region. The cost-efficient accuracy and high productivity of ERDAS 2011 Software and the high-caliber services of GeoSystems Group for Information Technology are a winning combination."For more information about ERDAS or its products and services, please call +1 770 776 3400, toll free +1 877 GO ERDAS, or visit www.erdas.com.