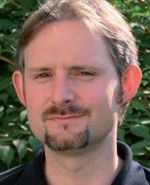 ASM Magazine: At INTERGEO recently, we had the opportunity to see the new GeoMax products. Can you briefly explain some of the main new features in some of the products?
AG: We've been introducing during the INTERGEO our new robotic Total Station as well as our two new GNSS RTK systems beside new products for the GIS and single frequency market. The new robotic Total Station, Zoom80, is equipped with the latest technology to provide a maximum on productivity when used as a one-man instrument or as motorized unit. The STReAM 360 concept combines automatic target search, tracking it and aiming.
The big advantage is that these are not three independent technologies, but that we combined them to reflect the natural workflow in the field. This together with a complete set of application programs and a 1'000m reflectorless range make the Zoom80 an excellent tool for daily work. With the new GNSS RTK systems, Zenith10 and 20, we provide a fully integrated light weight GNSS solution. Integrated GPRS and radio provide a flexible system to work in a reference station environment or switching your rover into a base.

GeoMax Zoom30ASM Magazine: What differentiates GeoMax from other surveying related technologies in the Hexagon group of companies? Most important is what difference us from our competition due to being part of the Hexagon group.
AG: GeoMax has access not only to state of the art technology, but also production, quality, logistic and service departments of a 12'000 employee group.
We go independent ways when it comes to applying these technologies to the markets – this is also the factor that enable GeoMax to coexist with the other brands united under Hexagon.

ASM Magazine: The Zenith10 & Zenith 20 series were recently announced. Can you describe a few applications where this technology is operating and some of the benefits that the users are finding?
AG: Zenith10 and 20 are light weight integrated GNSS RTK system capable of operating as well in a reference station network as in a base-rover setup. With the Zenith10 and 20 we've managed to build the latest technology and combine it into an easy to use package ready for every day work.

ASM Magazine: I had the opportunity to see the GeoMax Xsite software. Which kind of users is the product aimed at? Does the software provide multiple language support and is there a dealer network in Asia to support it?
AG: We currently see that the first mobile or tablet PCs suitable for field work are on the market now. The Zenith30 GNSS RTK, Xsite runs on, provides for example a 7" screen. But all software products are simple blowups of WinCE or Mobile devices to match the bigger screen. The only thing this does is to provide you with bigger buttons.
What we did with Xsite is to develop a software that fits what a ruggedized PC does: it brings your office to the field and combines it with a GNSS. The user group for it are customers that require flexibility in the field and can't afford to repeat the same job they've done already on the filed in the office again. Support of the product will be done via our existing dealer network for the Asian market.

ASM Magazine: Can you explain the factors involved in why a surveyor would choose a robotic total station over a non-robotic total station for use?
AG: I would say there are two groups. Those that require a one-man Total Station to safe manpower and have the information of the survey where it's needed: where you stake or measure your points. The second group consists of users that require reliability. A motorized Total Station, like our GeoMax Zoom80, will aim at button press precisely at your target. Independent of the light conditions and independent if it has already done 1'000 measurements today.
The human eye is fast, but we get tired and struggle on light conditions. Automatic aiming lets you concentrate on the things to finish the job.

ASM Magazine: What do you see as the primary challenges facing surveyors in their work today? How is your company helping to meet these challenges?
AG: It's flexibility and efficiency. The time you have today to get the job done is becoming shorter and shorter and the tasks more complex. Important is that all this comes at a price level that enables the surveyor to be competitive.
At GeoMax our target is to provide the best price-to-performance ratio. We reach this by cutting off frills not required. This makes our systems easy to use and still provides equipment that follows our mission of "works when you do".

ASM Magazine: The GeoMax GGO product is interesting because of the ability to integrate data from numerous technologies. Is it worthwhile for a surveyor to use this software in a small start-up company? Can other survey data be integrated along with GeoMax data in this product?
AG: GeoMax GeoOffice, GGO, is an excellent tool as it's modular. It's supplied with all our products in the basic version to enable users to exchange data and make configurations. If more functionality is needed it can even be upgraded on a modular base to post-processing, 3D adjustments and more. Industry standards like RINEX are supported to enable also 3rd party data to be imported.
ASM Magazine: Some people like to combine laser scanning with the precision of total station measurements. Can you explain how this scenario comes about and the role of laser scanning as compared to total station measurements?
AG: We currently see laser scanners and total stations covering two independent fields with little overlap. The two technologies are complementary – in terms of quantity and quality of the results and use cases. Rather sooner than later we'll also see hybrids between two technologies on one hardware.
ASM Magazine: Why should a surveyor consider to purchase a GeoMax product?
AG: First of all we are one of the few supplier's that cover the whole portfolio, from robotic and manual Total Station to GNSS, digital levels, laser rotators, automatic levels to construction products and software.
Everybody who uses a fleet of instruments from different suppliers know of the pain of different battery concepts, cables, data formats and so on. Second, GeoMax provides this at the best price-to-performance ratio. Third, GeoMax is not a standalone development, but with being part of Hexagon in a much bigger group providing stability and a constant stream of new technologies and products.
ASM Magazine: With many new GPS-based constellations becoming available from different countries, how is that impacting GeoMax products going forward?
AG: The times we're living in are exciting, as we see how a market dominated by one technology is becoming much wider. For GeoMax it's important that we can integrate these technologies once they provide advantage for our customers. With a system like the new Zenith20, which is L5 and Galileo ready, GeoMax can make sure this is covered.