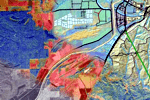 The recent earthquake in Japan has been so powerful that it has caused the Korean peninsula to move.  It has also caused Japan to shift. Along the east coast of Japan in recent days we have witnessed flooding. This has been caused by changes in the topography of the eastern coastline where land depressions have resulted in a lowering of the landscape in some places. 
All.geo publishes interesting details about the plate tectonics relative to the ChristChurch earthquake event. As indicated, the location of the city sits atop of critical place in terms of tectonics, supporting the realisation that future shifting is likely to occur as well. 
When the Eyjafjallajökull volcano in Iceland erupted, the ash cloud permeated European skies for weeks, causing airlines to ground their aircraft, which ultimately, as we have seen in recent weeks, resulted in year-end financial losses for many airlines. This gave rise to a huge amount of criticism as to why the entire European sky was shutdown, when in fact there were many places without ash clouds. Make no mistake, there are many Asian volcanoes that could cause similar events to happen.
The case of Japan and Korea is likely to result in increased coastal surveying to ascertain the topography. Before any building or infrastructure investments can be made to rebuild damaged areas, basic topographic information would be a prerequisite, important first step toward redevelopment. In the case of ash clouds and volcanic activity, changes in policies and the inclusion of tools and technologies for more accurately monitoring and measuring volcanic events and ash plumes is on the horizon. Improved lidar atmospheric measurments, mapping and spatial organisation activities are possible options that will be included.
For all regions impacted, the redevelopment of damaged areas will require immense investments in infrastructure planning, construction and rebuilding. These will likely include geospatial tools and technologies that help to provide collaborative environments while ensuring that monitoring is included in any future plans. 
————————————————-
Image: GeoSAR PurVIEW from Fugro