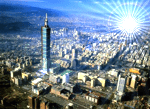 For surveyors the connection of field data computing to existing survey data resources is invaluable. EQuIS field data gathering solutions, for example, include GPS, electronic sketching and tools for checking data validity and completeness. Trimble's new TSC3 Controller not only includes GPS but includes provision for geo-tagging and links the field device directly to wider surveying and imaging workflows.
The combination of field controller connected to the wider enterprise is a powerful combination that not only allows these controllers to collect, process and represent field data, but aids to support a diversity of field operations across discplines – effectively promoting openness, interoperability and capitalising upon valuable spatial data, both existing and newly created.
Increasingly users are finding that data collected through GNSS input can be extended with imagery. And, with airborne and satellite imagery providers acquiring higher resolution imagery, that value is even further extended.
In one sense we can see field data recorders becoming like 'field managers and directors' – acting through interactive communications capabilities to exchange, direct and explore other field technologies like total stations and GNSS network exchanges.
The future looks very bright for field data controllers with these capabilities in a world where mobility is important and the ability to collaborate with geospatial data in any environment must take place.