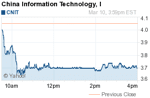 "We expect strong performance in our GIS segment in 2011," said Jian Huai Lin, Chairman, CEO and president of the company in an earnings statement. "Differentiating us from our competitors, we have continued to receive government recognition. In the third quarter, the local government granted us 100,000 square meters plot of land in the new development area with a favorable price, as an incentive to relocate our headquarters and boost the local economy."
China Information Technology is the sole software supplier of GIS to Map World, China's first state-sponsored Web-based map service that was launched in January 2011. Map World is a cloud platform for GIS, with numerous APIs to support application developments. It is fundamental to the growth of both 'Location Based Services' and the 'Internet of Things' industries in China.
The company is a key participant in the Digital City project, which is planned to cover 100 more cities in 2011. They are also one two approved vendors of GIS platform software, together with ESRI, for the Smart Grid project conducted by the State Grid Corporation of China. The company also has a public safety GIS solution offering, with contracts under China's National PGIS Standardization Project.
For the year ended December 31, 2010, the company's revenue was $163.85 million, compared to $101 million for the year ended December 31, 2009, an increase of $62.85 million, or 62.23%. Software sales increased by 41.66% to $90.42 million for the year ended December 31, 2010, from $63.83 million for the year ended December 31, 2009. Software sales constituted 55.19% of our total revenue, as compared to 63.20% during the prior year.
To learn more about the Company, please visit its corporate website at http://www.chinacnit.com.