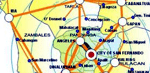 "Inspectors said the mistakes were caused by poor management and lack of responsibility of several advisory departments of the standing Binh Thuan Province People's Committee," reported Viet Nam News.
While a first glance might suggest environment – development conflicts, the lack of a detailed plan points to other problems. Projects need plans.
Writing in the paper 'Assessing the Role of Land Use Planning in Natural Resource Management', authors David Mitchell, Michael Buxton and Trevor Budge of Australia state, "…The practice of land use planning involves achieving a balance between the community's environmental, social and economic needs and demands; between the rights of private property owners, the role and willingness of government at various levels to set policy and direction, and the right of the community to have input into the policy formed and decisions made. "
But developing national master plans for land use is not easy. During the past week the government of the Philippines attempted to deal with a similar situation.
"After several failed attempts to pass a law that will manage the use of the country's limited land and water resources, Senator Juan Miguel "Migz" Zubiri, chairman of the Senate committee on environment and natural resources, expressed confidence that Senate Bill 2673 or the Land Use Act will address the seeming lack of masterplan in using our country's natural resources and at the same time lauds the Aquino government's commitment to support the measure," wrote government reporters.
Legislation acts as a baseline – providing guidance and a common set of principles that conflicting agencies (like in Viet Nam) can use to deal with issues as they arise. Indeed, it is near impossible to develop any kind of reasonable operating land use authority – anywhere – without such governance supported through policy bodies.
While these kinds of legal frameworks are necessary for sustainable development to begin, an understanding of the physical resources is also necessary. Such inventories provide information about many kinds of resources including water, land, mineral and biological values. As this information is gathered, often through the use and application of geospatial and geomatic technologies, master planning can proceed that will encounter needed balances for sustainable economic development.