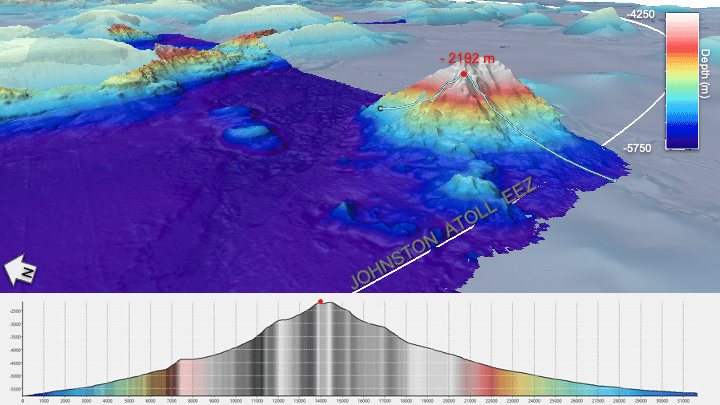 The Ocean Exploration Trust (OET) 2023 Expedition Season has officially begun. Underway now, its first expedition (NA149) utilizing remotely operated vehicles (ROVs) returns to U.S. waters surrounding Kingman Reef and Palmyra Atoll, home to some of the most pristine marine ecosystems on Earth. This month-long expedition focuses on a large submerged range of seamounts that remain completely unexplored north of the Kingman/Palmyra Unit of the Pacific Remote Islands Marine National Monument (PRIMNM). 
In March 2023, President Biden directed the US Department of Commerce via NOAA to consider designating this area as a national marine sanctuary as part of the America the Beautiful Initiative, and NOAA soon initiated the sanctuary designation process. This expedition, funded by NOAA Ocean Exploration via the Ocean Exploration Cooperative Institute (OECI), will integrate brand-new technology focused on advancing non-invasive methodologies for ocean science. 
Through previous expeditions in this remote region, OET has been working to increase its baseline knowledge of the deep-water habitats and seafloor formations of this area, which is larger than the state of New Mexico. It first explored the region in 2019 and returned in 2022, recording videos of dumbo octopus, deep sea coral habitats, and even a first-time sighting of sea spiders mating. Many large areas remain completely unexplored. This year, its exploration focuses north of the currently protected area to expand global knowledge on the marine and cultural resources of the region, including patterns of species distributions and the area's geological history. 
New to this year's exploration, in collaboration with NOAA Ocean Exploration and the Bureau of Ocean Energy Management, OET will integrate the SETI Institute and Impossible Sensing's deep-sea Laser Divebot Spectrometer into ROV operations, which allows for expanded ocean exploration. Through laser scanning, this sensor collects high-fidelity chemical composition data on materials, including rocks, sediments and biological samples. Being deployed for the first time from a mobile ROV, this technology aims to advance in-situ sensing and potentially reduce the need for collecting as many physical samples in the future. Analyzing rock samples helps researchers understand the complex geological history of the submerged ancient volcanoes, part of the larger Line Islands. 
Image Credit: Ocean Exploration Trust