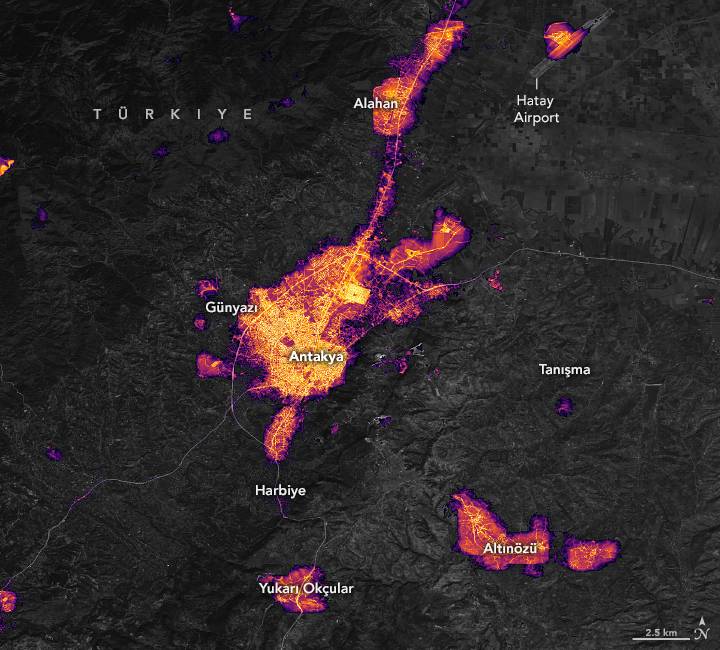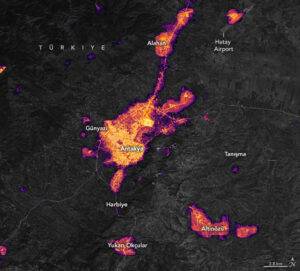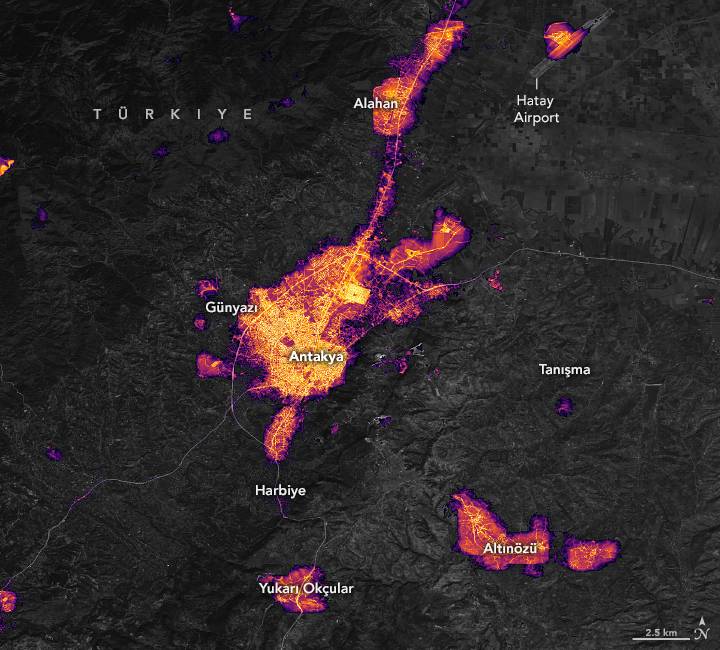 On Feb. 6, 2023, magnitude 7.8 and 7.5 earthquakes hit southern Türkiye and northwestern Syria, causing significant losses of life and destruction to infrastructure. Antakya, the capital of Türkiye's Hatay Province, was hit especially hard. Data from satellites show that after the quakes, much of the region lost electric power.
These maps show the amount of light emitted by Antakya's city center and surrounding communities before and after the earthquake. The left map shows the area on Feb. 4, 2023; the right map shows the same area on Feb. 8, 2023.
The maps come from the Black Marble HD product, provided by Eleanor Stokes and Ranjay Shrestha of the NASA/USRA Black Marble science team. The maps are based on data from the Visible Infrared Imaging Radiometer Suite (VIIRS) sensor on the NASA-NOAA Suomi NPP satellite. The basemap was built from data collected by the Landsat 9 satellite.
The maps show widespread outages beyond the central business district of Antakya in suburban and exurban communities. Some of the darkened communities include Dursunlu, Harbiye and Samandağ to the southwest; Günyazı to the west; Ziyaret to the east; and Alazı to the north. A wider view of the region shows that other provinces, such as Kahramanmaraş and Adıyaman, also appear darker after the quake.
Image Credit: NASA Earth Observatory images by Lauren Dauphin, using Black Marble data courtesy of Ranjay Shrestha/NASA Goddard Space Flight Center, Landsat data from the U.S. Geological Survey, and data from OpenStreetMap.