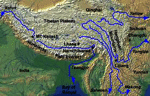 Pakistan recently voiced concern about the need for improved water management. "Adoption of modern water conservation methods and agricultural practices is imperative to cope with water scarcity as Pakistan has been placed in red zone due to low per capita water availability at 1,000 cubic metres," it was reported. Bangladesh reports that rising water and water salinity issues are preventing use of the supply. "overpopulation, unplanned housing and industrialisation are creating immense pressures on the land, draining agricultural terrain of its fertility and productivity. On the other, the increasing effects of climate change such as rising water levels and salinity are posing a threat to the loss of habitable land as well." Meanwhile, Viet Nam has stated that its water quality monitoring systems are outdated.
At a meeting of 40 Asia-Pacific agriculture ministers in the last few weeks, several of those attending the FAO sponsored event reported on water problems. One representative said, " factors such as the global economic crisis, climate change, reduction of agricultural land and water resources and falling agricultural investment had aggravated the situation." This comment linking economic health to natural resources. Development is also impacting biodoversity and water related resources along the Mekong Delta reports Nature.
All of this raises the need for establishing and balancing sustainable development within Asia, and the Asian Development Bank has provided $500 billion to do just that. India, is also contributing toward the management of waterways, and plans to spend nearly $1 billion to understand it's aquifers.
Geospatial tools and applications have an important role to play in ensuring safe, clean water and to ensure that supporting watersheds are maintained. But – this can only happen when these tools and the approaches that enable them, are used and applied. Remote sensing, surveying, mapping, monitoring and measurement involve several of these technologies, and each can contibute toward advanced water management planning.